Visit the Albemarle County Historical Society for their newest exhibit titled: **The Story of Albemarle's Trees and her Forest Industries. **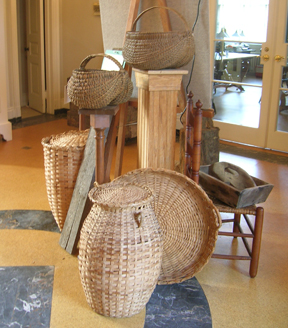 Quoting from the historical society website: "Trees were an integral part of early settlers' lives and work, and they fueled one of Albemarle's most important industries–lumber. The story of the trees–use, overuse, and conservation–is the story of the growth of the County, both socially and economically." This exhibit contains an array of material culture that pertains to forest products: from split-oak baskets to locally-made oak chairs, from wooden slats to forestry tools, from photographs to advertisements from area timber industries.
The exhibition was curated by Catherine Anne Daley, a University of Virginia summer intern through the Institute for Public History, with assistance from ACHS staff and volunteers. Click here to get more information about visiting the exhibition (on display through Fall 2007).