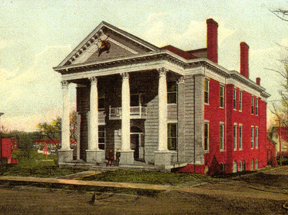 The building may be vaguely familiar to modern-day Charlottesvillians…perhaps the exposed brick side looks familiar ? It's hard to place this building today because the portico and the moose have been removed (the four Corinthian columns in the front). The site is on East High Street, adjacent to the Old County Jail.
Built in 1902, this was the home of the Charlottesville Lodge No. 389, B.P.O. Elks (organized in 1897). This building served as their headquarters for decades. In its heydey the lodge included a library, card room, bowling alley, pool and billiard parlor, buffet, baths, and a banquet hall.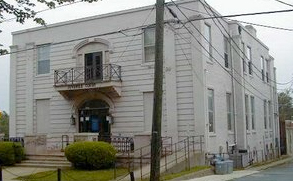 After the Elks Club moved out, the building was converted to the Juvenile and Domestic Relations Courthouse. After a 1940s fire, the facade was simplified, leaving only the pilasters (flattened columns). Since 2002 the building has been undergoing renovations. The renovations were significantly delayed after a wall collapsed in 2006. When completed the newest facade will differ even more from the original (Photo coming soon).