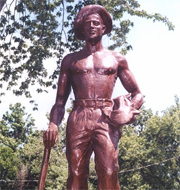 What year would a young man have been able to sign up for the above, fictional job posting ? The answer: 1933, working with the Civilian Conservation Corps (originally nicknamed "Roosevelt's Tree Army"). President Franklin Delano Roosevelt created the C.C.C. in March of 1933, during the Great Depression, as a partial solution to high unemployment. By 1935 over 2,600 C.C.C. camps had been opened across the country. Over half-a-million individuals lived in these camps while they worked on public works' projects. While widely successful, the camps were closed in 1942 a year after the US entered World War II.
Virginia had dozens of CCC camps.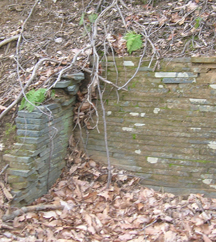 The very first CCC camp was located in the George Washington National Park (in Ft Valley, VA). Several camps were located in Albemarle. You can still see the product of their labor if you know where to look. One example is an old CCC-road that once connected Covesville to North Garden. This beautiful, old road winds along the mountains that parallel route 29. The CCC laborers built culverts and shored up the edges of the road to ensure proper drainage.
If you want to learn more about the contributions of the CCC and its history, stop in at the White Hall Community Center on June 8th, between 2 and 4, for the 75th Anniversay Celebration of the Civilian Conservation Corps. At 2:30 Albemarle County historian and writer, Phil James, will give a lecture on the CCC Camp Albemarle (located in White Hall). The event is hosted by the White Hall Ruritan Club and is free of charge. For more information email philjames[insert the at symbol]firstva.com.