Quick quiz - where is Albemarle's only statue of a Native American woman ? (Please email me if you know of others!)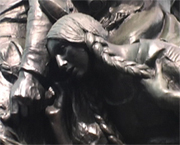 She is hard to see, because she's kneeling behind two men. But if you look closely at the Meriwether Lewis and William Clark statue at the intersection of West Main & Ridge Street (in downtown C-ville), you will see the Shoshone woman. Sacagawea, along with her husband Charbonneau, joined the Lewis & Clark Expedition in 1804, to serve as a translator. Visit the SacajaweaHome website or enter in her name in the search field at the on-line Journal of Lewis & Clark for first-hand accounts about her from the Lewis & Clark diaries.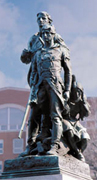 The Charlottesville memorial is offically titled "Lewis and Clark Memorial," neglecting Sacagawea all together. It was presented to C-ville in 1919, designed by Charles Keck and financed by Paul Goodloe McIntire. Take a closer look at the base of the statue for a glowing description of the westward mission and iconic images that illustrate their journey (notice the direction that the three figures are facing). To read the official description of the statue, click here.