Place names often provide historical clues. For example, the County is named after Willem van Keppel, the second Earl of Albemarle. The Earl (1702-1754) was a British diplomat, Colonel, and later governor of the colony. The county was formed in 1744, but the current boundaries date to 1777.
Originally, the county seat was in Scottsville, but it was moved to Charlottesville in 1761. Charlottesville is named after Queen Charlotte (1744-1818), the wife of George III of England.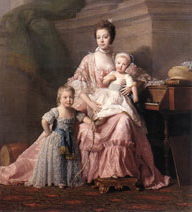 Her direct descendants include the current Queen of England, as well as Queen Victoria. Her husband reigned as King of England, and thus ruler of the American colonies, during the last decade before the American Revolution. Accordingly, the citizens of Charlottesville chose the name of the then ruling Queen for their newly created village.